Fred Kavli Theatre | Thousand Oaks, California
Celebrate the colorful decade of the 80s with the music of Culture Club! Led by the charismatic 80s icon Boy George, Culture Club will make 'time' to bring 80s nostalgia to the Fred Kavli Theatre on Friday 24th February 2023. Culture Club's vibrant vibe comes from their plethora of hits such as "Do You Really Want to Hurt Me", "Time (Clock of the Heart)", "I'll Tumble 4 Ya", "Church of the Poison Mind", "Karma Chameleon", "Victims", "Miss Me Blind", "It's a Miracle", "The War Song", "Move Away", "I Just Wanna Be Loved", and many more. Be part of the revelry, the flash from the past, and yes, grab those tickets while you can. This is a hot one; book your tickets now!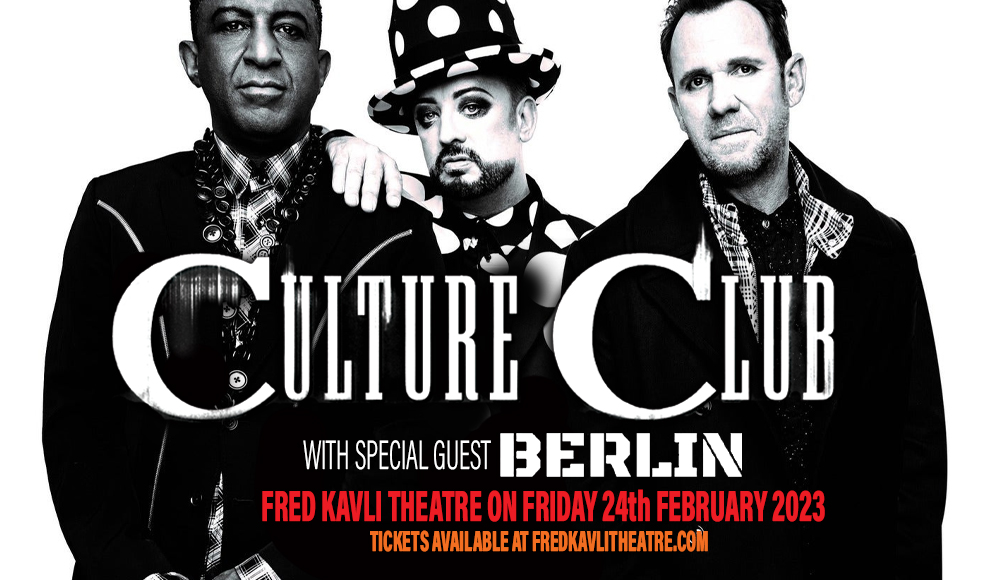 It's impossible to picture the 80s without including an image of Culture Club. Boy George is definitely a stand-out with his oozing charisma, his flamboyant outfits, his stunning make-up, and above all, the infectious razzle-dazzle of their music. From the clubs of London, Culture Club emerged and wrapped the world around their fingers as fans became obsessed with their infectious songs. Selling 50 million records worldwide is a huge number but their impact on the pop music scene is immeasurable.
Released in October 1982, Culture Club debuted with the release of the album, "Kissing to Be Clever", and spawned their early hits "Time (Clock of the Heart)" and "I'll Tumble 4 Ya". In 1983, their sophomore album "Colour by Numbers" gave the band their biggest hit, "Karma Chameleon" which peaked at No. 1 in the US for three consecutive weeks, and would ultimately hit No. 1 in 30 countries, thus becoming one of the top twenty best-selling singles of the 1980s. As more hit singles like "Miss Me Blind", "It's a Miracle", and "Victims" rolled out of the album, Culture Club was reaping awards and accolades left and right. The album gave Culture Club the distinction of being the first group in music history to have a certified-diamond album in Canada, and they also picked up the 1984 Brit Award for Best Group and the Grammy Award for Best New Artist.
The New York Times' music critic, Stephen Holden, stated in an article that "Culture Club blends soul, rock, funk, reggae, and salsa into a music that programmatically reconciles white, black and Latin styles", adding that, "Mr. O'Dowd made the group's best songs – the Motown-flavoured Do You Really Want to Hurt Me and the Latin-inflected dance tune I'll Tumble 4 Ya – shine like jewels."
And with that, Culture Club radiates multi-colored energy that shines the brightest when they're on the live concert stage. This gig at Fred Kavli Theatre on Friday 24th February 2023, is a must-see, must-experience show of a lifetime. Be there. Book your tickets now!