Fred Kavli Theatre Information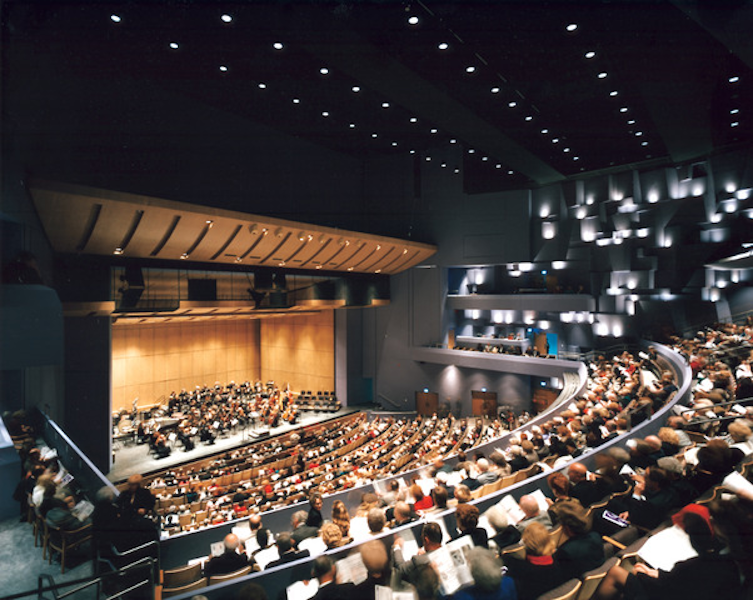 The Fred Kavli Theatre is a 1,800-seat theatre based inside of the Thousand Oaks Civic Arts Plaza. The venue has become home to the New West Symphony ever since its original founding and stands adjacent to a park named for Richard and Mary Carpenter.
The complex was originally constructed in 1994 at a cost of $63.8 million upon the former site of Jungleland, a famous private Zoo. The entire construction project was designed by AIA Gold Medal architect Antoine Prodock and featured a postmodern and modern architecture style that featured large sculptures mounted to the sides of the building. The 210,000 sq foot building was ornamented with Indian sandstone to give it a unique look and feel that accentuates performances and events held there. The building is also noted for its tall construction standing at ten stories in height and descending as low as 22 feet underground where it is anchored in volcanic rock.
It might surprise plaza visitors that the site was home to a Chumash summer camp in pre-colonial times and was also land that belonged to Egbert Starr Newbury, where he established Conejo Valley's first post office.
As far as the Fred Kavli Theatre, it has enjoyed success over the years featuring a wide variety of memorable musical performances and stage shows from noted performers including; Kenny Rogers, The Beach Boys, LeAnn Rimes, Willie Nelson, David Copperfield, BB King, Sheryl Crow, and many others.
See the below pages for further information on the Fred Kavli Theatre at Bank Of America Performing Arts Center:
Fred Kavli Theatre Parking:
Find out more about parking at the Fred Kavli Theatre and driving information.
Ticket Policies:
Read about the ticket guarantees and authenticity policies when purchasing tickets via this website.
Fred Kavli Theatre Seating Chart:
View the Fred Kavli Theatre at Bank Of America Performing Arts Center seating chart and the various seating options.