Fred Kavli Theatre | Thousand Oaks, California
Fans of comedy have a lot to be excited about because Tom Papa is hitting the road for his "2023 Comedy Tour." This part of his trek will make its way to the Fred Kavli Theatre on Saturday, November 11, 2023, and it's going to be a wild ride filled with the most insanely funny jokes that will leave you in stitches and make your sides hurt from laughing so hard. Known for his observational humor, where he hilariously describes everyday life and crazy human behavior. His witty one-liners and comedic timing really create a connection with audiences, and something this special doesn't come around very often, so be sure to grab your tickets before they sell out. Doing so is really very easy; click the "GET TICKETS" button and follow the steps outlined to secure your place at what will be one of the funniest evenings of your life.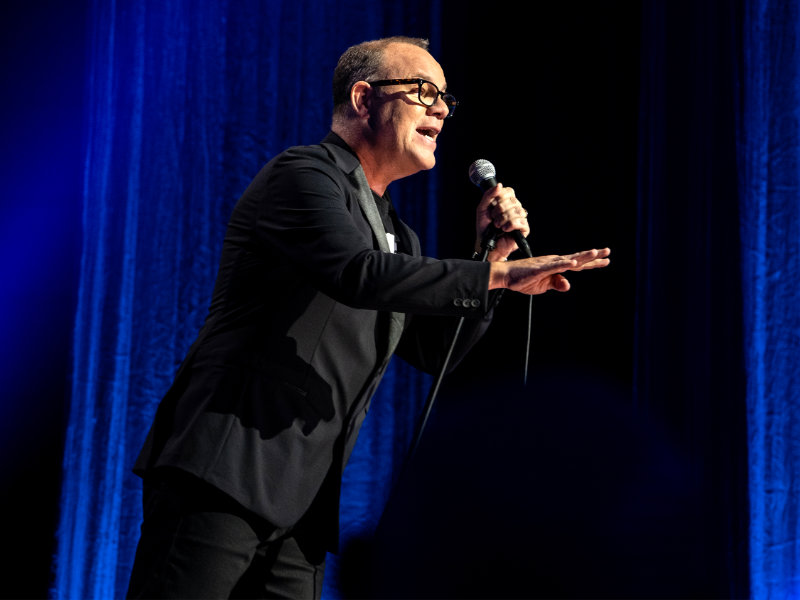 Thomas Papa Jr. was born on November 10, 1968, in Passaic, New Jersey. He grew up in Park Ridge and then later in Woodcliff Lake, New Jersey, where he also graduated. During his younger years, he participated in football and track. Tom's career started way back in 1993 at the Stand Up New York comedy club, where he would host and perform.
Thus far, he has created five comedy specials, including Calm, Cool, and Collected (BSeenMedia, 2005) Tom Papa: Live in New York City ( Comedy Central Records , 2012) Freaked Out (2013) Human Mule (2016) You're Doing Great! (2020) What A Day! (2022).
He is also the host of "Come to Papa" on Sirius XM Satellite Radio, and he occasionally has other comedians as guests, such as Andy Richter , Jim Gaffigan Sarah Silverman and Joel McHale. He and Fortune Feimster also started hosting another show called "What a Joke with Papa and Fortune, where the pair interview comedians and celebrities.
As an actor, he has done astonishingly well and has appeared alongside A-listers such as Clive Owen and Mat Damon just to name a few. Thus far, he has made appearances in the following films: Analyze That (2002), Comedian (2002), The Life Coach (2005), The Haunted World of El Superbeasto (2009), The Informant! (2009), Behind the Candelabra (2013), Top Five (2014), 3 from Hell (2019), Paper Spiders (2021), and most recently, Air (2023). His voice was used in 2007's Bee Movie.
Other notable mentions in his already phenomenal career: He met Jerry Seinfeld at the Comedy Cellar in New York and shortly after did a tour with the legend. As a writer, he published a book with the same name alongside the special You're Doing Great!. Papa, served as a host on the Food Network's program, Baked.
All told, he has had an incredible career in show business, having played host, actor, and comedian. His talents are boundless and show no signs of stopping. Watching him live is an exceptional treat that no real fan will want to miss out on. Be sure to reserve your spot by grabbing your tickets on this webpage now before it is too late.