Fred Kavli Theatre At Bank Of America Performing Arts Center | Thousand Oaks, California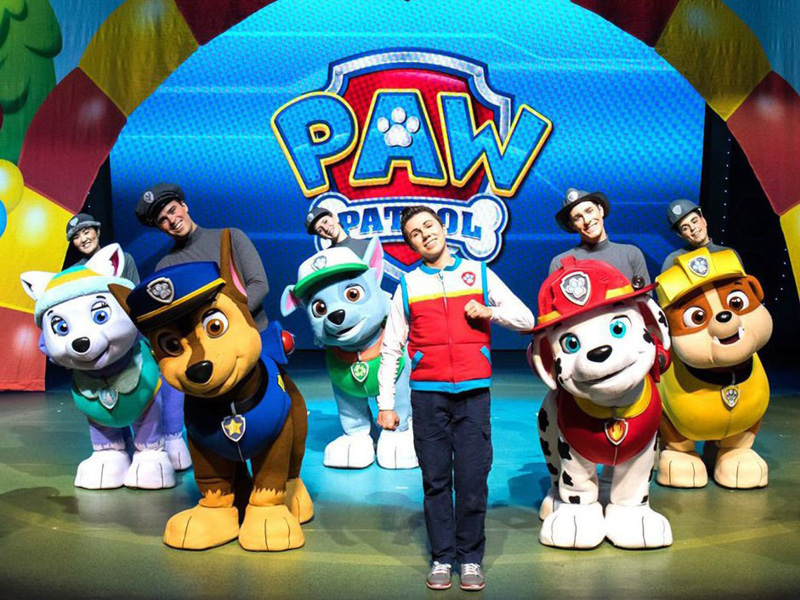 Get READY, Thousand Oaks! Paw Patrol is ROLLING into town, and they're bringing their high-energy, tail-wagging adventure to the Fred Kavli Theatre at Bank of America Performing Arts Center on February 3, 2024! This LIVE concert is an EXPLOSION of excitement that you and your kiddos can't afford to miss. Expect breathtaking stunts, catchy tunes, and all your favorite Paw Patrol pals — Chase, Marshall, Rubble, and more! You'll find yourself humming along to the greatest hits like "Pup Pup Boogie" and discovering new favorites that will have your kids dancing for days. You're FAILING your weekend if you're missing this rollicking spectacle. Remember, no pup is too small for this EPIC show. So hold on to your hats, brace yourselves for these preschool heroes, and get ready for a voyage like none other! Secure your tickets NOW to guarantee a memory that will last a lifetime. Paw Patrol Live, let's dig in!
Get ready, folks! The Paw Patrol Live concert will be rolling into the wonderful town of Thousand Oaks, California on February 3, 2024. Picture this: pulse-pounding music, jaw-dropping theatrics, and an energy that reverberates through the Fred Kavli Theatre At Bank Of America Performing Arts Center. Oh, and let's not forget about the singing and dancing — sure to leave everyone, both young and young at heart, thrilled and dancing on the edge of their seats.
This isn't your regular kiddie show, oh no, it's a swashbuckling adventure that'll take you on an unforgettable journey with Ryder, Chase, Marshall and the gang as they go on a mission to protect Adventure Bay. This interactive show will keep everyone entertained, dancing and singing along to the favourite tunes of the Paw Patrol and topping off the unforgettable live music experience.
About Paw Patrol Live
Now let's dive into what makes Paw Patrol Live one of a kind. These bunch of canine heroes have been conquering hearts with their daring rescues and the buzzing energy they bring live on stage. They've paw-sitively riled up crowds all over the world, with children and parents alike giving two paws up for their life-enhancing performances.
Their achievements are no small potatoes either. Paw Patrol Live has brought smiles to millions of faces, conducted countless successful tours worldwide, and made a substantial impact on the children's live show experience. It's no wonder they've been dubbed as one of the most popular live children's shows worldwide.
Fred Kavli Theatre At Bank Of America Performing Arts Center Information
Positioned in the scenic Thousand Oaks, the Fred Kavli Theatre At Bank Of America Performing Arts Center has upheld a reputation for being a venue that hosts fantastic family-friendly events. With comfortable seating ensuring great views from every angle, state-of-the-art acoustics, and an atmosphere that'll have you embracing the joys of live performances, it truly is a beautiful place to experience a concert like Paw Patrol Live.
Furthermore, it offers a variety of refreshments to keep everyone energized throughout the show. And its strategic location? Well, it's surrounded by splendid eateries and exciting attractions, making it a perfect spot for a day out with the family.
Ticket Information
The box office will be selling tickets, but guys, hear me out here, the best way to get your hands on those coveted Paw Patrol Live tickets is through Ticket Squeeze. They offer lower prices and fewer fees compared to others. The bang for your buck is real, folks!
So, make your way to Ticket Squeeze and grab your tickets before they sell out faster than Chase on a mission. Don't deprive the kiddos (or yourself) of this exhilarating concert experience. Remember, no job is too big, no show goer is too small. Gather your pups, it's time for Paw Patrol Live!
In the words of Ryder, "Whenever you're in trouble, just yelp for help"—or in this case, "Yelp for tickets!" at Ticket Squeeze. Hope to see you there!