Fred Kavli Theatre | Thousand Oaks, California
The unstoppable wildlife filmmaker and conservationist Filipe DeAndrade is bringing Untamed live on stage at National Geographic Live on Friday, November 4, 2022, at Fred Kavli Theatre. The National Geographic WILD start of the web series named Untamed is set to share his passion with his fellow fans and animal lovers at a special show where he'll be introducing you face to face to snakes, lions, whales, and other species, then talking about having a passion that drives you to soar heights. Like the star himself, this is your chance to encounter unexpected discoveries at National Geographic Live – Untamed with Filipe de Andrade. So book those tickets now!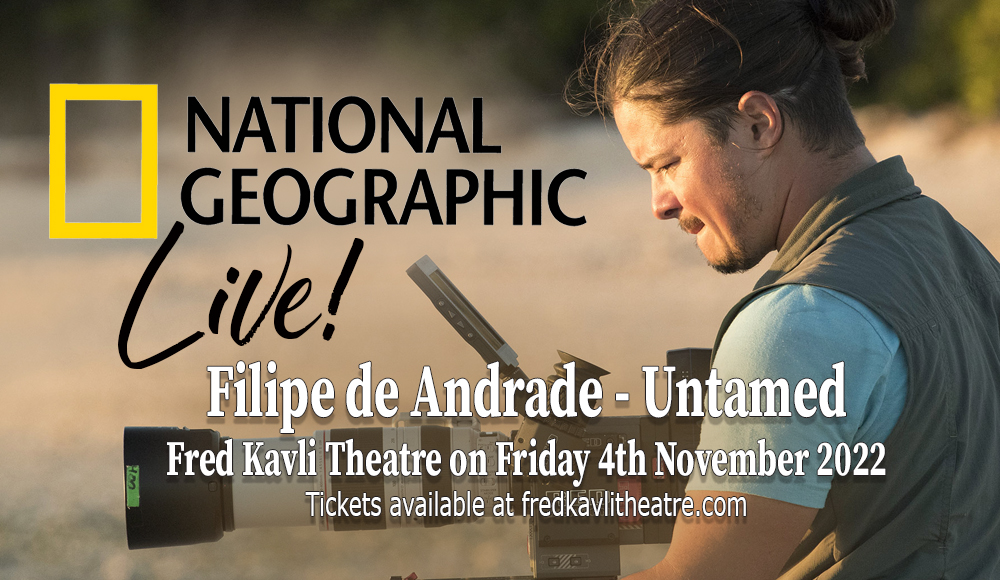 Hailing from Rio de Janeiro, unexpected discoveries are what drive Filipe DeAndrade. The star of National Geographic's WILD web series, Untamed, is set to star in the network's live tour series. On his show, he discusses and explores saving animals – believing that animals saved him. He is a critically-acclaimed photographer telling powerful messages through his visual craft.
In this show, DeAndrade will be talking about finding one's passion and living with intent. As someone who found love for animals, DeAndrade has lived intently to share with the world how much animals mean to him – and how these special creatures are also in need of care. He'll be bringing audiences face to face with lions, snakes, sharks, jaguars, whales, and so many more untamed surprises by the Untamed star.
His big breakthrough began when he won National Geographic's short film contest called "Wild to Inspire". He was then tapped to assist in shooting documentaries in Africa with the network. This moment inspired him to do his own exploration – starting it off with his own backyard. His show named "Untamed with Filipe DeAndrade" kicked on in 2017. With a repurposed ambulance and a team of three, they traveled across the country exploring the 'untamed. They've had meet and greets with various animals such as crocodiles, coyotes, birds, lions, etc.
"Untamed is my attempt at sharing with Americans what we have in our wild backyard." says DeAndrade.
Since then, the acclaimed filmmaker has inspired thousands of viewers to share this same interest in love for animals, and finding one's passion to create meaningful impact.
So don't miss out on the man himself, live on stage at National Geographic Live: Untamed with Filipe DeAndrade at Fred Kavli Theatre on November 4th by booking your tickets now!