Fred Kavli Theatre At Bank Of America Performing Arts Center | Thousand Oaks, California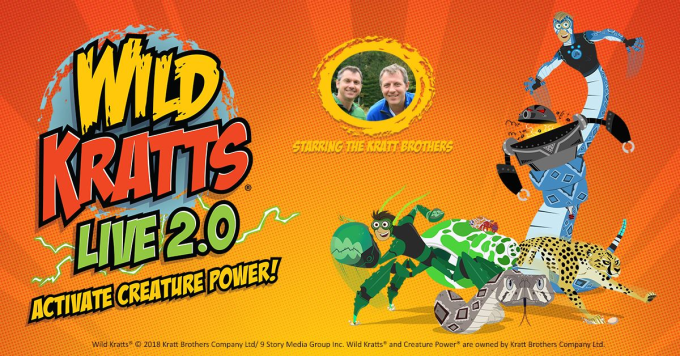 CALLING ALL WILD KRATTS FANS! Gather round for an EPIC adventure that's coming your way! Your favorite creature-adventuring brothers are bringing their animated show to LIFE at the Fred Kavli Theatre At Bank Of America Performing Arts Center in Thousand Oaks, California on March 8, 2024! Experience a WILDLIFE EXTRAVAGANZA as Martin and Chris Kratt lead us on a wild ride, complete with the Creature Power Suit excitement we all know and love! Get ready to dive headfirst into the exceptional world of biomes, animals, and ecology! Expect fireworks of FUN, thrilling surprises, and perhaps some familiar anthems from the greatest hits of Wild Kratts' journey. IT'S A WILD WORLD OUT THERE and we're all invited to explore it together! Grab your sense of adventure and book your tickets NOW! This is a roaring good time you won't want to miss!
### Concert Summary
Hey there Wild Kratts' fans! Fasten your adventure seat belts, because you're in for a wild ride on March 8, 2024! Your favorite animal-loving brothers are bring their animated animal fun to life with a trip into the wild in their action-packed live concert at the famed Fred Kavli Theatre At Bank Of America Performing Arts Center in Thousand Oaks, California.
During the Wild Kratts - Live concert, you can expect the Martin and Chris to take the audience on an adventurous journey as they encounter fascinating creatures, share secret creature powers, and bring attention to all things wild. It's not merely a show, it's a complete immersive experience into the wild world. You'll feel like you've been transported straight into one of the episodes.
### About Wild Kratts - Live
Now, speaking of the dynamic duo themselves. Martin and Chris Kratt are not just regular performers- they've made a significant mark in children's television history, fostering a love for animals with their riveting stories and interactive performances. Their captivating live shows come complete with a large screen that teleports the imaginative world of Wild Kratts right onto the stage.
With several top-rated seasons of their hit PBS Kids television series, they've garnered plenty of awards along the way too. Their achievements not only speak for their relentless passion but also for their ability to instantly connect with their audience. Their live shows are an amplified portrayal of this connection as they seamlessly interact with attendees throughout the journey.
### Fred Kavli Theatre At Bank Of America Performing Arts Center Information
In the heart of Thousand Oaks, nestles the magnificent Fred Kavli Theatre At Bank Of America Performing Arts Center. Known for its stellar line-up of world-class performances, the theatre boosts your experience with its state-of-the-art acoustics and a tranquil ambiance that will paint the perfect backdrop for the Wild Kratts magic.
Why the Fred Kavli Theatre? Well, you may ask. The answer is simple - it's convenient, classy, and completes an adventurous night with its sophisticated charm. So get ready for an unforgettable evening amidst the finest comforts this marvelous venue has to offer.
### Ticket Information
We're sure by now you're roaring to head on into this wild ride. To secure your spots, head over to the box office of the Fred Kavli Theatre. But wait! If you're looking for the best savings, here's something you should know.
Ticket Squeeze is your ticket to breathtaking entertainment at unbeatable prices! With their low-priced tickets and minimal fees, they indeed squeeze out the best deals for you. The resale tickets they offer are always a good grab for those looking for value deals. Always rely on Ticket Squeeze and enjoy your night amidst the wild without breaking your bank!
So why wait? It's time to dive into the thrilling world of Wild Kratts - Live and live an episode you've always loved watching on TV. Grab your tickets, grab your loved ones, and get ready for a creature adventure! See you there, fellow creature adventurers!