Fred Kavli Theatre At Bank Of America Performing Arts Center | Thousand Oaks, California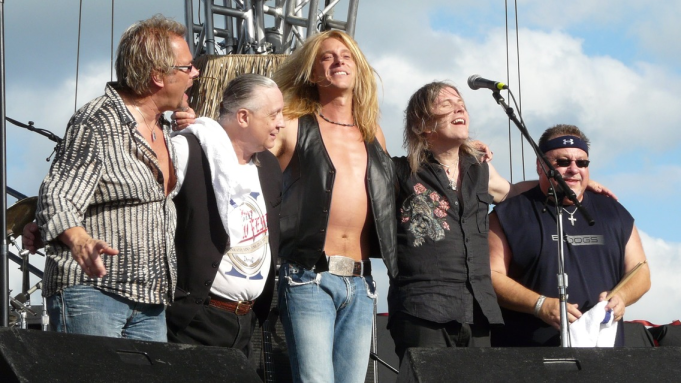 Hey Rock 'n Roll dibs, stash those bingo wings and brace yourselves! The Guess Who is back and ready to kick out 'da jamz at the Fred Kavli Theatre At Bank Of America Performing Arts Center in Thousand Oaks, California. Even better, you're invited! YUP, you heard it right! The iconic rockers will be steppin' and stompin' come February 10, 2024. Who's game?
The Guess Who has been blowin' minds since before we were all a twinkle in the milkman's eye. Brace yourselves to get knocking-kneed and jelly-elbowed with their heavy-hitting, soul-shaking tracks. It's a TOUR not to be missed – we're talkin' "American Woman," "These Eyes," and our all-time favorite, "No Time," in the flesh, live and loud under the Cali sky.
You wanna be A PART OF ROCK HISTORY? Then swing by the Theater and snatch those TICKETS, duh. We all know they're hotter than a fresh mixtape so beat the posers and snap up your ticket ASAP. It's time to break away from your daily grind and let the CONCERT vibes take hold, dudes and dudettes. Less talk, more ROCK…
Ah, the live show. There's nothing that slaps quite like the raw power of The Guess Who belting out those greatest hits. Bask in the afterglow of rock legends, and forget all about that 9 to 5 grind. This tour is going to be OFF THE CHAIN! So c'mon, let's hit the deck, rockpups. Time's a-tickin'! Be there or be square. RAD!
Hey, rock 'n' rollers, time to pin your ears back. Put the pedal to the metal 'cause legendary Canadian rock icons, The Guess Who are ready to set the stage ablaze at the iconic Fred Kavli Theatre At Bank Of America Performing Arts Center in Thousand Oaks, California, on February 10, 2024. Talkin' about a tour that's headin' your way, set to overload your rock 'n' roll heart. Better snag those TICKETS, because honey, they're burnin' faster than a two-ticket bonfire.
This ain't just a CONCERT, man. This is The Guess Who's grand return, a.k.a., a heaving, writhing monster of classic rock power. Yeah, yeah, you might've heard it before, seen it before, but atta boy, not like this! Be there or be, well, nowhere! THIS is the event. Top drawer. Far out. Epic.
These guys rocked the history, man. Can I just say that their groove is "American Woman"? Oh yeah! And let's not forget the irresistible, soulful vibe of "These Eyes" and "No Sugar Tonight". These tunes ain't just songs, man, they're anthems! The Guess Who, winners of several Juno Awards and inducted into the Canadian Music Hall of Fame. Now, if that doesn't cream your Twinkie, don't know what will!
The Guess Who still got the beat, the same electrifying stage presence and the fiery spirit that thrilled us all in their prime! Ready to rekindle your love for classic rock? Let's get LOUD! Prepare to be swooped away to the good ol' rockin' years!
Talk about the venue? Oh, baby, Fred Kavli Theatre At Bank Of America Performing Arts Center is the real deal. A sight to see, smack in the center of Thousand Oaks, California, it boasts enough space to handle all the madness and excitement successfully. Incredible acoustics, state-of-the-art facilities, and cozy seats, not to mention its reputation for hosting epic shows like this one.
So, my good folks, let's pay some respect, eh? Let's show up for The Guess Who TOUR. Be one with the music, feel the raw, exhilarating pulse of rock n' roll coursing through your veins! TICKETS are just a click away, don't pretend you're not tempted. It's now or never, rockers! Grab your TICKETS while they last, and get ready to rock the night away in pure, unadulterated Guess Who style!