Fred Kavli Theatre | Thousand Oaks, California
This December, the Fred Kavli Theatre features an incredible line-up of shows specially selected for Thousand Oaks, California's arts and music lovers. On Saturday, 3rd December, the theater welcomes the distinguished orchestra, New West Symphony! Escape to a fantastic musical soundscape as the New West Symphony performs their holiday special titled,
Winter Spectacular! This much-awaited performance guarantees to deliver outstanding symphonies, captivating melodies, and awe-inspiring choirs. If you love classical and holiday-themed music, this is your opportunity to witness one of America's best orchestras! So grab your tickets now to experience New West Symphony's Winter Spectacular at the Fred Kavli Theatre!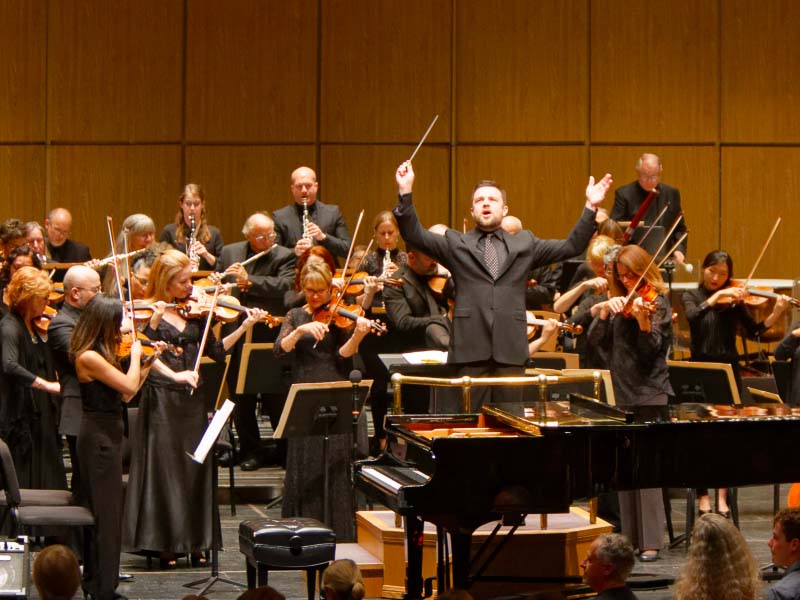 Winter Spectacular is a two-day show featuring the outstanding talents of the New West Symphony. The Fred Kavli Theatre will host the first night of the much-awaited ensemble featuring traditional holiday and classical favorites. The program, led by maestro Micahel Christie, will feature several repertoires such as Korngold's Snowman Overture, Debussy's The Snow is Dancing, Tchaikovsky's Symphony No. 1 "Inter Dreams," Leontovych's Carol of the Bells, and many more. Performers for this once-in-a-lifetime concert feature non-other than the incredible singer of Los Robles Children's Choir. The show will also provide a visual spectacle with the Ukrainian folk dance ensemble called Chervona Kalyna. Vocal and recording artist Sam Harris, who has appeared on several Broadway, film, and TV shows, will also grace the stage as a special guest. Winter Spectacular is part of New West Symphony's 2022-2023 masterpiece series. This season, the orchestra is proud to present the fantastic talents of conductor Enluis Montes Olivar, pianist Sean Chen, cellist Ifetayo Ali-Landing, and many more.
The New West Symphony is a classical orchestra from Los Angeles, California. The orchestra is led by award-winning conductor and composer Michael Christie who work tirelessly to deliver some of the most outstanding classical masterpieces to the general public. Maestro Christie has over two decades of experience in conducting orchestras. His work with Santa Fe Opera for the Revolution with Steve Jobs has earned him a Grammy Award for Best Opera Recording.
If you're keen on spending your holiday season hearing wonderful music by the New West Symphony, then you should come by the Fred Kavli Theatre on Saturday, 3rd December 2022. Tickets are now up for grabs! Be sure not to miss it!