Fred Kavli Theatre | Thousand Oaks, California
This fall, you can enjoy the amazing music by legendary composers Ludwig Van Beethoven and Dave Brubeck! The fantastic works of these great musicians will be brought to life by the groundbreaking orchestra, the New West Symphony! Led by Grammy-Award-winning composer Michael Christie, the New West Symphony will perform timeless pieces from the venerable and illustrious composers who have enriched our lives with amazing music. This coveted performance will take place at the Fred Kavli Theatre in Thousand Oaks, California, on Saturday 4th, November 2023! Quickly score tickets now to see this phenomenal show! We promise you won't regret it!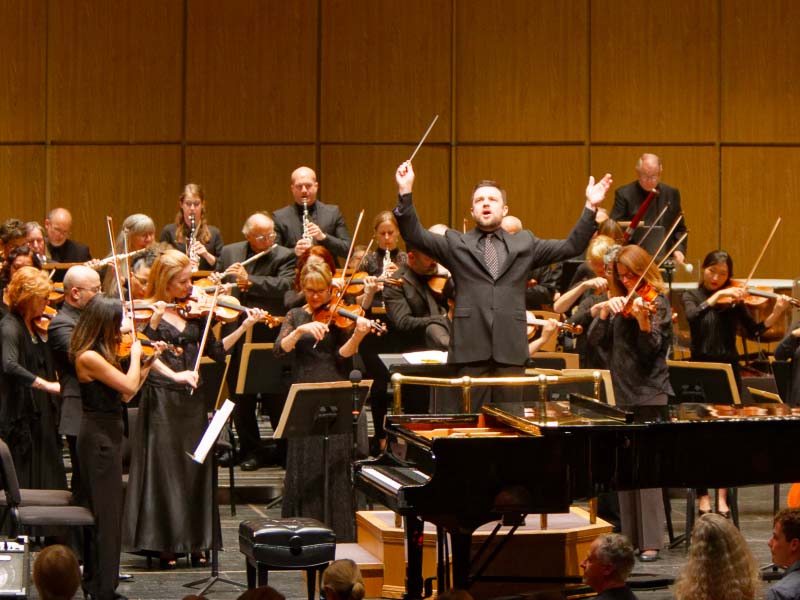 New West Symphony's Beethoven to Brubeck is another must-see installment to the 2022-2023 Masterpiece Series. The concert features the timeless music of classical composer Ludwig Van Beethoven and jazz prodigy Dave Brubeck. The concert will be accompanied by a photo presentation by legendary American photographer Ansel Adams. Adams was a genius visual artist whose landscape photography greatly impacted the world of art and environment conversation. His works earned him numerous accolades, including a Presidential Medal of Freedom in 1980.
The concert will feature the music of legendary jazz musician Dave Brubeck with the accompaniment of his Grammy-nominated musician son and bass guitar god, Chris Brubeck. Meanwhile, the show will highlight one of Beethoven's greatest works, Symphony no. 5. Grammy Award-winning conductor Michael Christie will lead this fantastic orchestra.
This monumental concert takes place at the iconic Fred Kavli Theater. Since 1994, the theater has been part of the Oaks Civic Arts Plaza. Upon entering the Fred Kavli Theater, guests will be greeted by the structure's impressive postmodern architecture with featured large sculptures. The theater is also equipped with 1,800 plush seats and state-of-the-art equipment, providing guests with the ultimate entertainment experience.
Last year, the New West Symphony delivered a plethora of outstanding performances. The 2022 Masterpiece Series delivered the Symphony Fantastique, Ode to Joy, Our American Roots, Masters of Melody, and many more awe-inspiring shows. The past season has also brought incredible music to life, from the groundbreaking works of Edward William Elgar and Hector Berlioz to the legendary compositions of Wolfgang Amadeus Mozart, Sergei Rachmaninoff, and Giovanni Bottesini.
The New West Symphony has also brought in a number of guest performers, including esteemed musicians such as Xavier Foley, Hermanos Herrera, Chervona Kalyna, Sam Harris, Los Robles Children's Choir, and many more. This year, the Symphony has several exciting showdowns highlighting the works of classical composers and jazz artists. The season will also bring in a number of award-winning and illustrious performers, including pianist Sean Chen, opera singer Suzanne Falleti, Baritone singer Cedric Berry, pianist Natasha Kislenko, and clarinet master Joshua Ranz. This selection of events and artists is consistent with the company's mission to celebrate breathtaking music performed by some of the world's most talented musicians. Since its inception in 1995, the New West Symphony has been steadfast in presenting world-class performances to music enthusiasts in Thousand Oaks, California, and beyond!
Come fall season, you should reward yourself with a beautiful symphonic experience! Celebrate the works of Beethoven and Brubeck by securing your tickets now to New West Symphony's Beethoven to Brubeck!