Fred Kavli Theatre | Thousand Oaks, California
The multi-talented comedy-gold singer, actress, vocalist, writer, and magician Miranda Sings, is back to bring the YouTube sensation to the live stage. With her signature red lips, cheeky antics, rants, and questionable advice, Miranda Sings has entertained and empowered audiences around the globe since her hit parodies tracing back to 2008. With 2022 coming to a close and a new year crashing through, Colleen Ballinger or the woman behind Miranda Sings is hitting the stage at Fred Kavli Theatre on Saturday, 21st of January 2023. Don't miss out on the one and only Miranda Sings coming out of your screens and onto the live stage by booking your tickets now!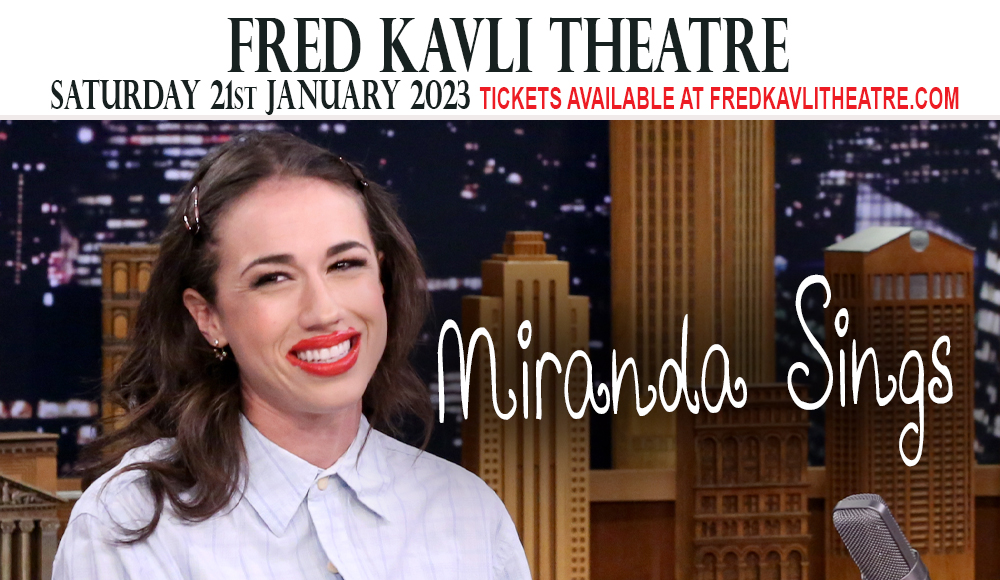 Colleen Ballinger's famed internet character, Miranda Sings, has become an international hit with over 2 billion views and 10 million subscribers on YouTube. Inspired by rude classmates and early YouTube hits, she created the character as a satire of arrogant singers who think posting videos will lead them to a hit in the show business industry. With hilarious parodies, rants, and cheeky antics since 2008, Miranda Sings has dominated the interwebs as one of the most famous and hilarious internet characters to break out of the internet.
As she hops on a new series of shows kickstarting the new year, her acts will definitely include her signature off-key singing of mainstream hits and tunes. With over 800 videos on YouTube as a satire of bad and egotistical singers who think they have hopes of making it big in the show business by posting videos, Miranda tells plenty of tales through her overdrawn red lipstick, off-key singing, and rants that go over the roof. Though dedicated as a satire to those with huge egos, her videos were found to be empowering by her young fans. She taught her audiences that "Popular girls don't have to be stylish. … Fear no one. … It's [acceptable for girls] to be cranky". She's noted as a role model and a "strong woman in comedy" that inspires people to just do what they love without hurting others in the process.
Beyond her YouTube-viral art, she's made various appearances on TV including Jerry Seinfield's Comedians in Cars Getting Coffee, and The Tonight Show Starring Jimmy Fallon. She's also the executive producer and star of the Netflix hit "Haters Back Off" which aired for two seasons. She also has New York Times #1 Bestselling Author accolades up her sleeve for her two books, Self-Helf and My Dirrahe.
So, don't miss out on the one and only Miranda Sings live on stage at Fred Kavli Theatre on January 21st by booking your tickets now!