Fred Kavli Theatre At Bank Of America Performing Arts Center | Thousand Oaks, California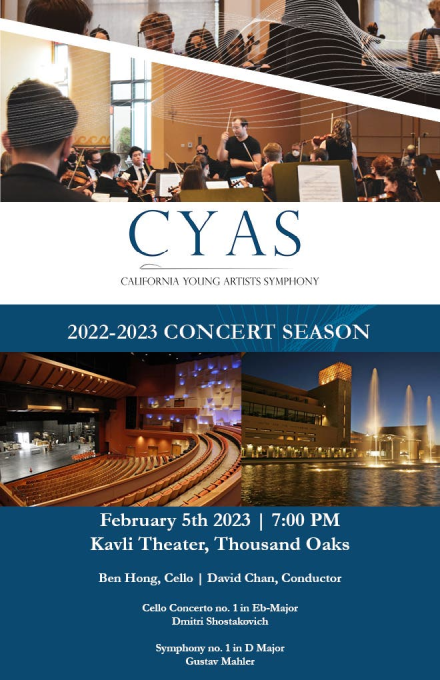 Listen up, music lovers! Nothin' compares to the raw, emotional power of LIVE classical music. And you know what's about to take center stage at the Fred Kavli Theatre At Bank Of America Performing Arts Center in Thousand Oaks, California on October 29, 2023? The California Young Artists Symphony: Bruckner & Messiaen concert. Get your TICKETS now 'cause this TOUR is gonna shake your soul!!!
Feel the sheer PASSION of these talented young maestros as they breathe new life into Bruckner and Messiaen's masterpieces. You'll be swept away on an epic sonic journey under the lead of these prodigies who are bringing the fire to the Symphony.
Bruckner's iconic symphonies, known for their immense spiritual and emotional depth, coupled with Messiaen's avant-garde melodies, will QUENCH your thirst for otherworldly classical music experiences. And, live? Nothing short of a MIRACLE.
So, what are you waiting for? Grab your friends, snag those tickets. Because, my musical brethren, THIS is the concert experience you've been waiting for.
Greatest hits? Heck yeah, they've got 'em. Expect to hear your beloved Bruckner symphonies and Messiaen's ethereal compositions ringing out from our talented pool of young musicians. Brace yourselves. This isn't your grandma's symphony outing; this is a young, vibrant TOUR de force.
And remember guys, the magic really happens when the lights dim, the silence sets in, and the first chord strikes. Be there at the Fred Kavli Theatre At Bank Of America Performing Arts Center and make this epic concert experience YOURS. Get your ticket to ride the sound wave of the California Young Artists Symphony: Bruckner & Messiaen concert. TOUR your senses, and don't look back!
Yeowzaaa musical maestros and maestras, brace yourself for a sonic sensation hitting the golden shores of California this autumn! Pack up your bags, whip out your calendars, and snag your TICKET for the most EPIC symphonic EXPERIENCE that's going to blow your roof off! The youngsters of the California Young Artists Symphony are back at it again with a doe-eyed mission: to stir your soul with their impeccable symphony!
Heard of the Bruckner & Messiaen concert? Well, dive into the soundwaves rolling all the way from Austria and France, straight to Cali! Are your ears ready? 'Cause this ain't your average jam sesh, folks. This is ARTISTRY. This is SYMPHONY. This is MAGIC!
These rising stars are no strangers to the limelight. Birthday cake candles? Pal, they've got an entire galaxy of STARS. Awards? They're practically snowed under! Their golden batons scrawl stardust across the musical sky, and on October 29, 2023, they're dotting down on Thousand Oaks at a legendary locale. And MAN, this is one gig on their TOUR you don't want to miss!
Think you know concerts? Think again, cause THIS–is a symphony rebooted. It's classic with a twist, y'all! It's where high-brow art unbuttons its stuffy shirt, kicks back, and lets loose. In short, it's a WILD symphonic ride, non-stop, from dusk till dawn!
Now, let's rap about the venue. The Fred Kavli Theatre At Bank Of America Performing Arts Center, where the magic's about to unfold. This place is no cookie-cutter theater. It's a cultural icon, a stage that whispers tales of legendary acts and standing ovations. Built for LIVE SHOW EXPERIENCES, this dazzling venue is America's crown jewel, renowned for its world-class acoustics and knock-your-socks-off performances. Nestled in Thousand Oaks, California, it's your one-stop-shop for sensory indulgence.
Picture this - the sun sets, the curtain goes up, and purr of cellos under gilded dome sends chills down your spine. The anticipation buzzes electric in the air, like a million bees ready to take flight. The music swells, the maestro waves his wand, and BAM! You're drenched in the sweetest sounds this side of paradise. Trust us folks - this is an auditory FEAST you don't wanna sleep on!
So, what's the word, music lovers? Are you geared up? Ready to ride the melodic wave? ASSEMBLE, fam! Say goodbye to regular and hello to the SPECTACULAR. Don't be the guy who slept through a REVOLUTION. Get those tickets! 'Cause come October 29, we're painting the town with music, but hey, no rainbow without a little rain. And this one's a STORM! So PARTY PEOPLE, RISE UP! The notes are in the air, it's time to tune in. End of discussion. Ready, set, GET TICKETS!